Americans mind their own business. According to the Small Business Administration, around 32 million small businesses are currently operating in the U.S., and some 543,00 new businesses are started each month. Some of these businesses were born from hobbies that took hold and gained momentum in the marketplace. This month we're celebrating  some fabulous entrepreneurs from the Xyron community, who use tools like our Xyron Creative Station and Xyron Sticker Maker to fill their storefronts with inventive, handmade gifts, decor, and more. We encourage you to support their business and others like them on November 27th, Small Business Saturday.
Anastasia "Cookie" Jackson is the founder and owner of Cookie's Paper Petals, a decor and design business catering to events and special occasions. Cookie is a wife, mother and auditor for the Department of Labor in Delaware, as well as a business owner. She started creating paper flowers in 2017. After pictures of her projects went viral on social media, she decided to take her hobby to the next level and formalize it into a thriving family enterprise. Her husband manages the business logistics, which allows Cookie to create her in-demand flowers, and conduct virtual workshops and in-person workshops. 
In 2020 the wife-husband duo opened their first paper flower storefront in Milford, DE and have expanded the space into "Cookie's Creative Lounge" designated for crafters and creatives to network with others and do what they do best – make beautiful arts & crafts.  Filled with all the crafting machines and accessories a person could ever need, there's even a dedicated Xyron section so everyone has access to a Creative Station, Xyron Glue Guns and more.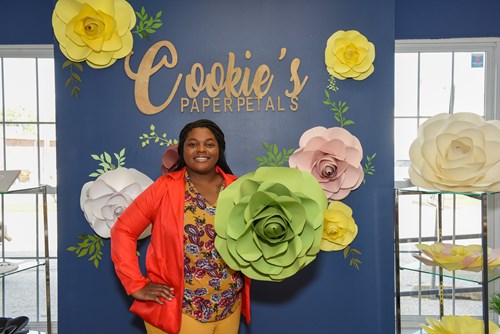 What inspired you to start your business and why?
 I was inspired to start my business because of the number of family and friends that started businesses around me. I never knew that my business was going to be making paper flowers. In 2017 several different life changing things happened to me. I lost my grandmother to Breast Cancer, I got married and 3 months after I injured my hip at work. During the time I was home recovering from the injury and spending a lot of time just going through the grieving process as well. This time in my life helped me discover making paper flowers as a creative outlet that later turned into a business.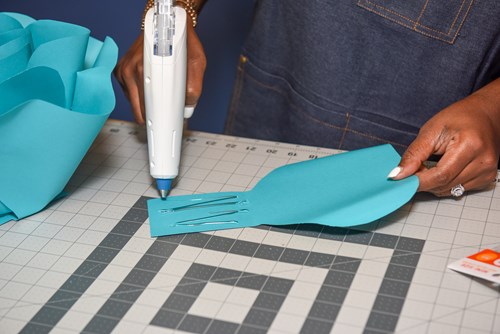 What was your very first product and how did it sell? 
 My first product was a paper flower, and I got the order by posting different paper flowers on my social media page.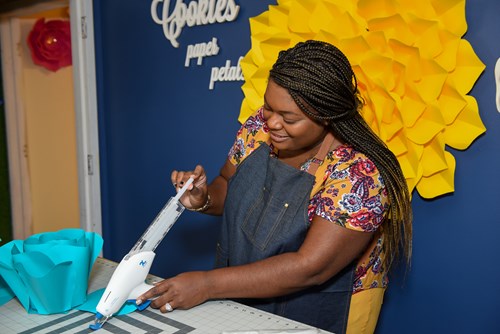 What have been the most significant challenges or hurdles you've been able to overcome? How did you overcome them?  
The biggest challenge in business was COVID-19. I overcame it by finding new ways to reach and engage my customers to keep my new full-time business afloat. I started teaching paper flower classes via zoom, making paper flower kits, and daily Facebook Live posts to keep my customers entertained and showing them new paper flowers. Once Covid restrictions were lifted, I was able to start going out into the community to daycares, nursing homes, small groups at churches, and community centers.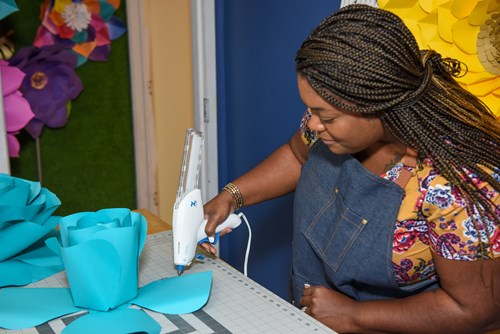 What Xyron products do you utilize for your business, and how do you use them?  
I use the Xyron Multi-Stick Glue Gun for making paper flowers, and I also use the Xyron 3-inch Disposable Sticker Maker. It helps when I have in-person classes -- students create their own name tags so that I can remember their names.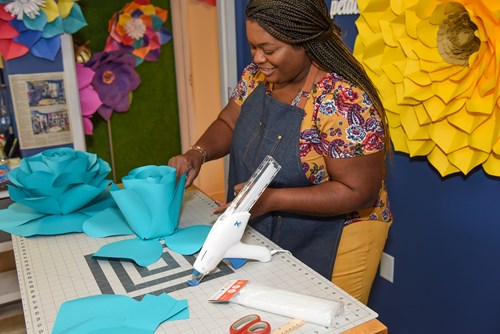 What was the best piece of business advice you've ever received? 
Don't get caught in the comparison trap. No matter how many paper florists there are, there is only one you, and that's what makes your business special.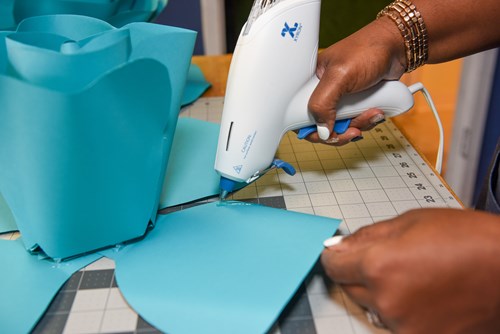 What inspires you? What keeps you motivated to push forward? 
My children inspire me. My family motivates me because I want this legacy to live on when I leave this world. I want my grandchildren to see my paper flowers in art museums. I want them to read about their grandmother being the first female African-American-owned paper flower shop that opened during the Covid-19 pandemic.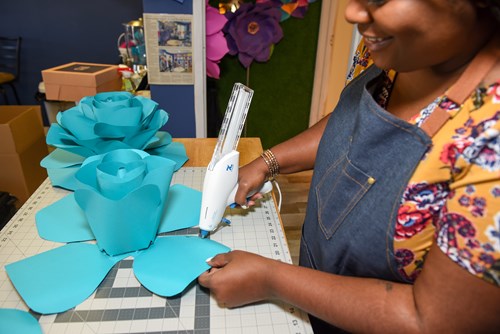 Being a business owner is hard! What keeps you up at night? 
 I try to make sure I respond to every comment and message on social media pages and emails. I never want to be unreachable to my customers. Although I know there may be a time that I get so busy I won't be able to, I just want to make people smile one paper flower at a time.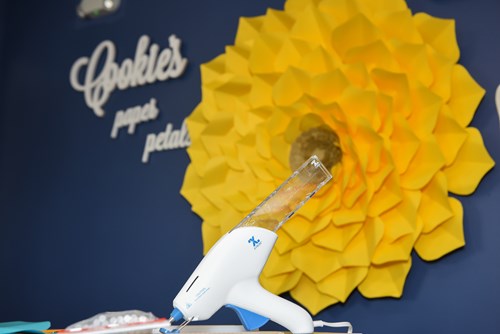 Do you have a quick "Xyron Hack" or tip for other small business owners or those looking to start their own small business?  
If you use glue guns to work on large projects, you need the Xyron Multi-Stick Glue Gun.  It saves you so much time not having to reload glue sticks every two minutes. I made a complete large paper rose without adding glue sticks, thanks to the three glue stick loader attached to the glue gun. SUCH a game changer!  I love it. I hope y'all come out with a cordless version soon.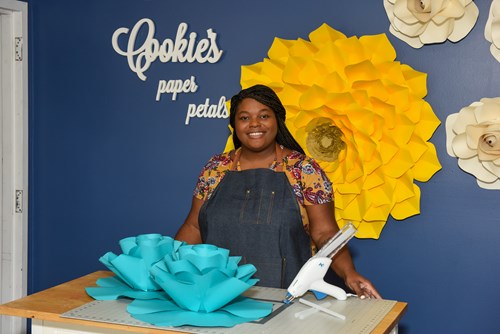 Where do you see your business going in the future? 
 I want my business to be like your next-door craft supply store that offers custom paper flowers and provides you with craft supplies.
To shop and interact with Cookie's online community, visit her Facebook, Instagram, and website.