With the summer sun high in the sky, now is the time to tuck yourself away in a cool shady spot and tackle your summer reading list. Don't have one? Team Xyron is happy to reveal their top reads in every genre to get you started. And because we know our community loves to attach a craft to every conceivable hobby, below are some fun pics of Xyron team members' DIY  bookmarks crafted using the Xyron Creative Station and other Xyron adhesive products.
Plus, enter to win your own bookmark making kit, including the Xyron Creative Station, Mega Runner and more!  
What are you reading this summer?
Julie, Xyron Marketing Analyst: Farm Girl, by Beuna Carlson. It is about growing up in the 1930's around my hometown in Wisconsin.  I love recipes so reading a few new cookbooks to get ideas for quick and easy dinners at home. 
Taylor, Product Manager: Usually I am reading and listening to a couple of books at a time on Scribed.  I am currently in the middle of two. I'm listening to The Guest List by Lucy Foley, which is an Agatha Christie-like mystery that @olivias.bookclub recommended. Then I'm also reading The Honey Don't List by Christina Lauren.  She's one of my go to authors for light beach reads. 
Sarah, Digital Marketing Manager: A Fine Balance by Rohinton Mistry, but I have not had a lot of free time, so have been picking this up on and off for the last four months or so. It's good to carry along to the beach, waiting on a bus, or picking up between meetings. 
Mary, Direct Marketing Manager: Little Fires Everywhere by Celeste Ng.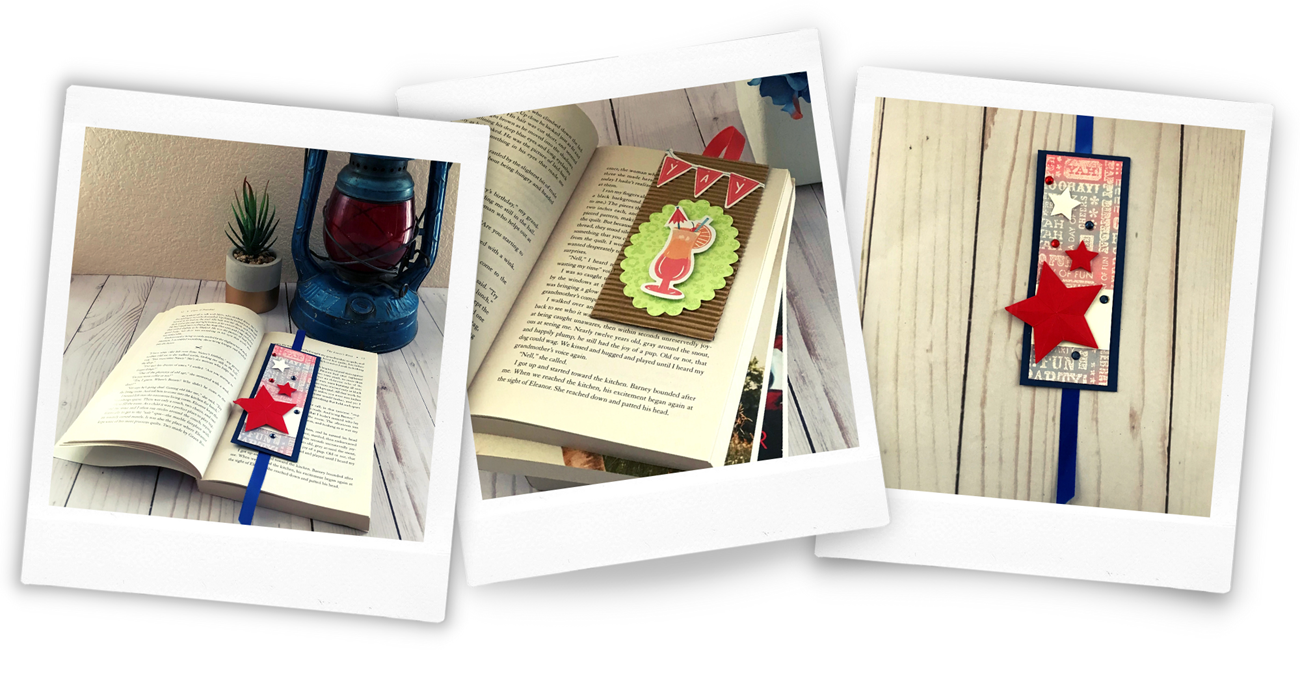 "YAY!" Summer daiquiris and patriotic star bookmarks made by Julie.  
What is your favorite genre of book and why? 
Julie: Always love a good mystery, love story and suspense novels.  My favorites as a child were Hardy Boys and Nancy Drew. Oops, dating myself.  
Taylor: Fiction - SciFi, mystery, RomCom Cozy, Spy novels, ChickLit, YA, etc.  The world is crazy enough as it is, I love books that transport me to a happy place. 
Sarah: I have always favored non-fiction, but do not discriminate against genres. I love sci-fi! 
Mary: I like a mixture of fiction, nonfiction, and biographies as they are all different and a good combination and variety of books to read.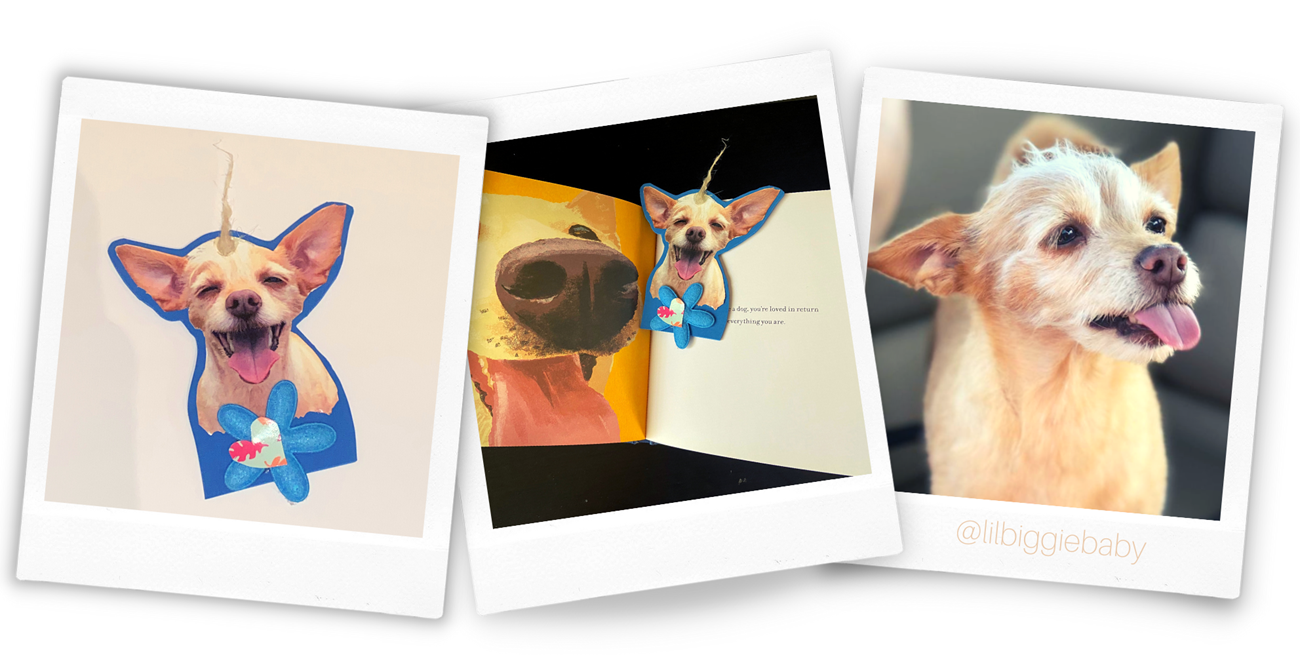 Taylor finds inspiration for her crafted bookmark from her adorable pup, Biggie.
Follow Biggie on all of his adventures:@lilbiggiebaby
What do you use for a bookmark?  
Julie: A special card I got from a friend.
Taylor: I usually grab whatever is around that is meaningful - it could be a photo or a card someone gave me.  
Sarah: The bookmark in the book I am reading now is three international stamps laminated together. Most of the time, an in-flight napkin does the trick in a pinch.
Mary: My daughter made me a bookmark when she was in kindergarten for Mother's Day with a photo of her on it. I've been using this as my bookmark for a while!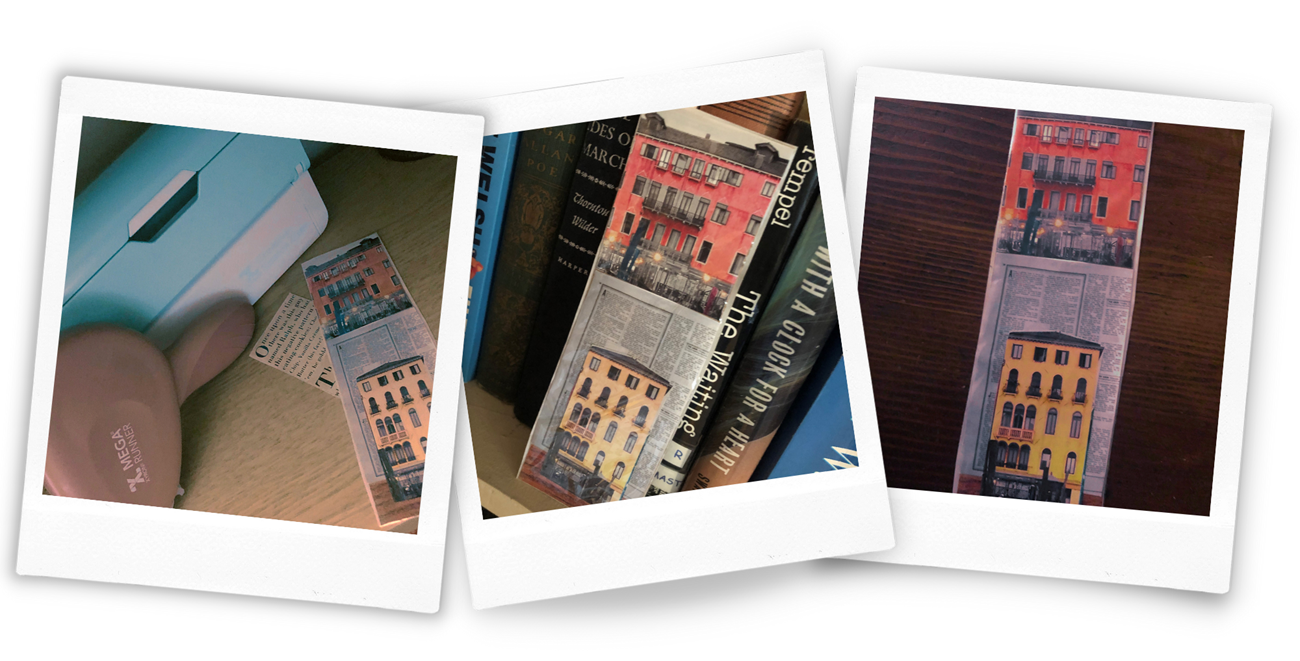 Repurposed paperback pages and art from old wall calendars help Sarah design this contemporary bookmark.
Do you prefer to read a hard copy book or on your tablet?  
Julie: It is a hard copy on my coffee table.  Always a reminder to relax and read before an excellent paperback.
Taylor: Total mix.  Love to listen to books on my AirPods while running errands or doing housework.  But I'll pick up a good paperback when I'm on vacation, or read from the tablet when laying in bed.  
Sarah: I have to read a hard copy. I was never able to transition to reading a screen. Something about the entire experience, and after a long day of reading emails and staring at your computer, it's nice to relax with a nice paperback.
Mary: I like hard copy books and usually go to our local library to get them. My daughter and I like going to the library together to pick out our books. It's become a sweet tradition.
What is your favorite book of all time, and why? 
Julie: The Time Traveler's Wife.  It was fascinating --I could not put it down until I read the whole book.
Taylor: That is a tricky question to answer.  When I was young, I loved Tuesdays with Morrie and Still Life with Woodpecker.  Now I just love falling into different book series -- Harry Potter, A Discovery of Witches, Daniel Silva's Gabriel Alon series.  
Sarah: The Chronology of Water by Lidia Yuknavitch. I've read it many times, and each time seems different. It is not for the faint of heart. Lidia's writing style is unconventional, which comes across as someone telling you a very vivid story rather than reading the story. You can hear it out loud. My second favorite is 1984 by George Orwell.
Mary: Where the Crawdads Sing by Delia Owens was one of those books that I couldn't put down and wanted to keep reading, the author did a great job explaining all of the characters and their stories. I liked the setting of the book, too, and the ending kept you waiting. It was a good book all around!  
Paperback or Hardback? 
 Julie: Paperback, easy to put in a purse when traveling
Taylor: Paperback because it's easier to hold.
Sarah: I tend to favor paperback, as I just find them less clunky and easier to throw in a bag and go. When they get a bit worn, it adds to their character, whereas hardbacks are a little harder to break in. 
Mary: I prefer hardback, but I would do either one. It reminds me of when I read books when I was a child. I'm not a fan of reading a book on a tablet as I like reading and holding the book.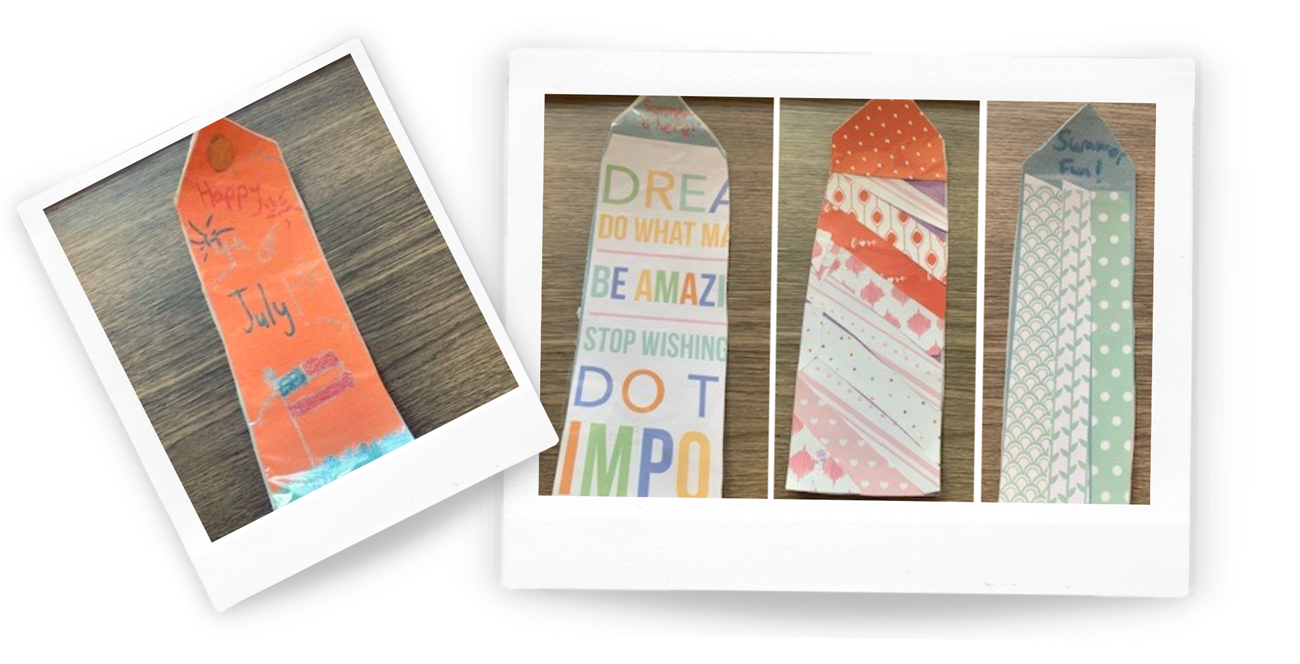 Mary made this project a family affair -- a fun summer activity with her daughter using spare scrapbook paper.
Tell us about the bookmark you made. What Xyron products did you use? 
 Julie: I like to make bookmarks and enclose them in "Birthday" or "Thinking Of You" cards.  I used the Xyron Creative Station and Xyron Mega Runner.
Taylor: I made a bookmark of my dog, Biggie, using real hair from his mohawk as a page finder! I used the Creative Station Lite to create a laminated sticker of his face and applied it to my foam paper. Then I used the Xyron Mini Hot Glue Pen to adhere the hair to the top, along with some other embellishments. 
Sarah: I keep old wall calendars with neat artwork on them, always intending to repurpose them in a frame or a craft, but never get around to it. This was an excellent opportunity for that! I pieced together some of those, along with some pages from an old paperback to create my bookmark. I used my Xyron Mega Runner to adhere my pieces to my base bookmark and then laminated it using the Xyron Creative Station Lite. 
Mary: My daughter and I made two bookmarks together using different scrapbook papers as the backgrounds and decorated them with a summer theme. We used the Creative Station Lite in rose gold and the Mega Runner.
--
Are you an avid reader? What are your favorite books? Need a new bookmark? 
If so, we're giving away a Creative Station + other goodies to help you create your own DIY bookmarks this summer. A value of over $250! 
Enter Below:
Xyron Summer Reading: DIY Bookmark Giveaway