The Beatles famously sang "all you need is love" for the first time over a half-century ago, and that sentiment has never been more true today. Guest blogger Cristina devised this cute Valentine's wreath from a heart shaped base, colorful cardstock, and her Xyron Mini Multi-Stick Glue Gun. Follow the steps pictured below and create your own wreath that celebrates love -- and your love of crafting!
Cristina is the creative mind behind the wildly popular Modern Flower Creation blog. There, this mom of two shares her fantastic floral creations made from paper and other materials. She also has a background in Social Work and aims to use her blog as a way to spread kindness around the internet and beyond. 
Cristina started making paper flowers three years ago and has perfected the technique of forming fun, realistic-looking flowers using a few of her favorite tools, like Xyron's Mini Hot Glue Pen.
She recently came up with a cute, quick craft for Valentine's Day, illustrated in the photos below. 
What is your favorite Xyron product?
My favorite Xyron product is the Mini Hot Glue Pen! It makes working with small paper flowers or projects that much easier.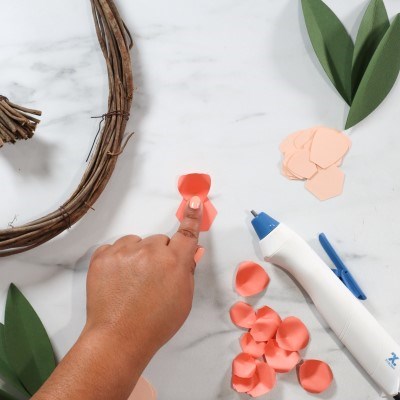 How did you get started in crafting?
I started at a really young age. I vividly remember making scrapbooks and creating my own diary templates. Those were the days!  Now, I make paper flowers and projects all the time. 
However, I am getting into making polymer clay earrings, so that's another creative avenue that has many possibilities.
What are you going to make with Xyron next?
There are so many options--it's hard to pick one project! I really want to make a Valentine's Day banner using my Glaminator and adding a few paper flowers.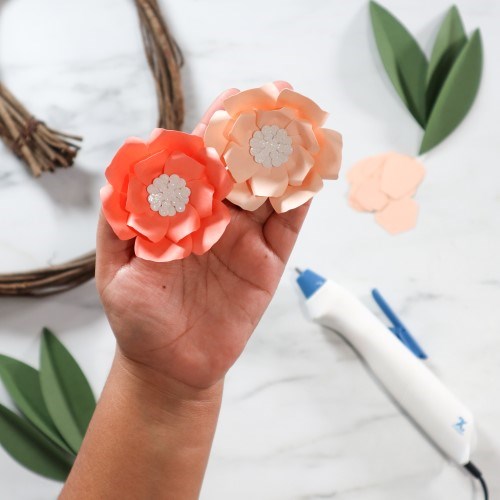 What is your favorite Valentine's gift to give or receive?
I love to make homemade Valentine's Day cards for my daughters to give to friends. It's a fun activity to do with kids. They love it!
If someone wants to craft flowers like yours, what's a fun and easy one to start with?
I would say to start with my "Template 1"  because the design is pretty simple. The petal itself is not intricate. All you need is scissors, a glue gun (I suggest the Xyron Mini Multi-Stick Hot Glue Gun), cardstock, and my template.
To view more of Cristina's colorful, crafted blooms visit her website, Instagram, Pinterest, Facebook page, and YouTube channel.
Valentine's Day is the ideal time to share your love through homemade gifts. What have you crafted this year, or what are you going to try?  Join our exclusive Xyron Inspiration Lab Facebook Group to share your creations and hear from others who love to craft as much as you do!