Happy National Craft Month! To celebrate, we are excited to share the latest creation from celebrity crafter Mark Montano's, as well as a promo code on all Xyron products for March! 
Mark Montano's name is familiar to people who have perused the crafting section of their local bookstore. The designer, DIYer, and blogger at Make Your Mark with Mark Montano is the author of the bestselling THE BIG-ASS CRAFT BOOK series. He's also lent his creative talents to TV shows including TLC's While You Were Out and 10 Years Younger, Style Network's My Celebrity Home, and Make Your Mark! On PBS.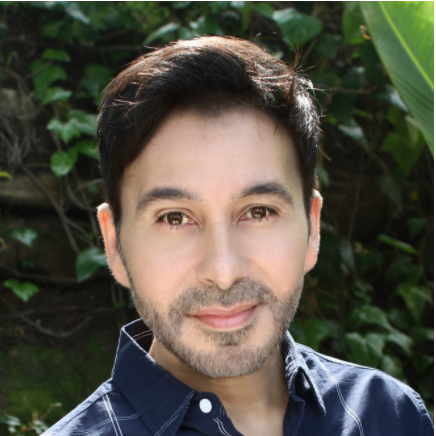 Mark posts his projects on YouTube and Create TV, including this new decoupage glassware set that is guaranteed to add whimsical elegance to any gathering. Check out this great video and find out why Mark is a forever fan of Xyron.
Your projects are all so bright and bold, where do you find your inspiration? 
Inspiration is everywhere if you just look for it.  My personal favorites are the color combinations found in nature, wandering through museums, devouring fashion and home decor magazines, and hunting for vintage arts and crafts books on Ebay....Wherever you look there are ideas that you can recreate and modernize with your own style.  
This year marks Xyron's 25th Anniversary, what has been your favorite Xyron product to date? What did you like most about using it?
My all-time favorite Xyron product is the Creative Station.  I'm a HUGE sticker maker and the permanent adhesive cartridge is my best friend and always on my desk. I have 15 nephews and nieces and we send lots of happy mail and greeting cards that are embellished (and filled with) fun, colorful stickers. I also use it to make the most fantastic washi tapes. My Creative Station is always in use.
What are your best tips for someone who is trying decoupage for the first time? 
You can decoupage with a Xyron Creative Station or the more traditional way, using a decoupage medium.  If you're going traditional, the one thing you must do before you apply your images is to mist the paper with water before you add the glue. This relaxes the paper so it adheres smoothly with absolutely no wrinkles. The least messy decoupage I've done is with my Xyron and for that technique you want to make sure that you use a brayer to really flatten your images against your surface. I use the permanent adhesive cartridge and it works like magic.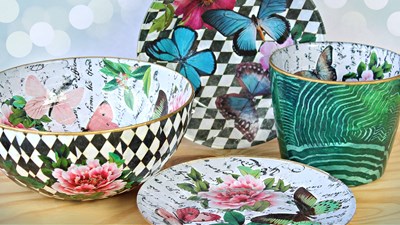 How did you get started in crafting? 
Creativity is a tradition in my family. When I was very young my mom was a painter and she would sit me down next to her with my big pad, crayons and markers while she worked.  My gramps was a carpenter and welder, as were my uncles, so I got to work in his little shop with him on the weekends. My grandmother always had her sewing machine out so when I was bored in the woodshed I would come in and work on things with her.  There wasn't a time I can remember when I wasn't creating something with my hands.
What are you going to make with Xyron next? 
Currently I'm obsessed with the lamination cartridge in my Xyron Creative Station and I think there is a fantastic light fixture or some amazing jewelry in my future.  I get a fluttery feeling every time I crank that handle!  
You can also check out Mark's designs on Instagram, Facebook, Twitter, and Pinterest. 
How are you celebrating National Crafting Month? Post your projects on our Facebook page or tag us on Instagram!