Proudly display your Irish pride with these adorable DIY leprechaun hats! With a few standard craft supplies a terra cotta pot becomes a playful St. Patrick's Day decoration perfect for a mantle, shelf, or table.  The Creative Station Lite makes this project come together in a snap!  The edge-to-edge adhesive makes adhering the felt and glitter paper to the pot so easy with no glue globs or glue strings!
Take a look at the video below for the full tutorial!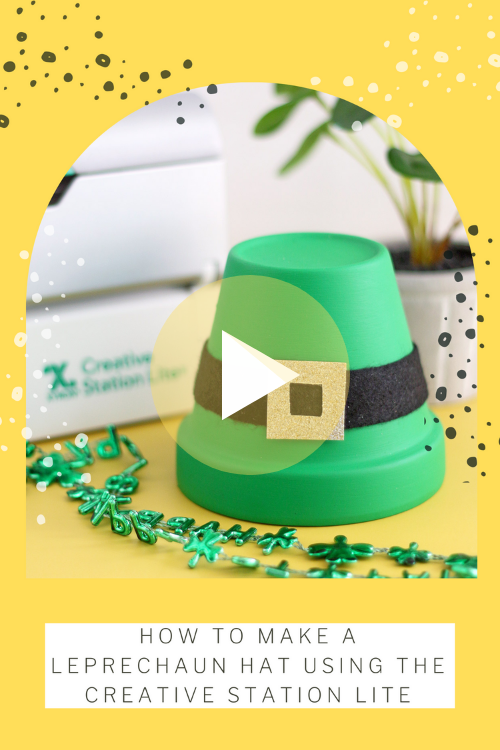 Supplies:
4" Terra Cotta Pot
Black Felt (or Black Ribbon)
Green Acrylic Paint (I used DecoArt Festive Green)
Gold Glitter Cardstock
Scissors
Craft Knife and Cutting Mat
Step 1: Add a coat of acrylic paint to the bottom and sides of the pot.  Let the paint completely dry before adding another coat of paint.   Continue adding paint until your pot has nice coverage.
Step 2: Cut a piece of felt ¾" wide and 11" long (you could also use ribbon if you have it!).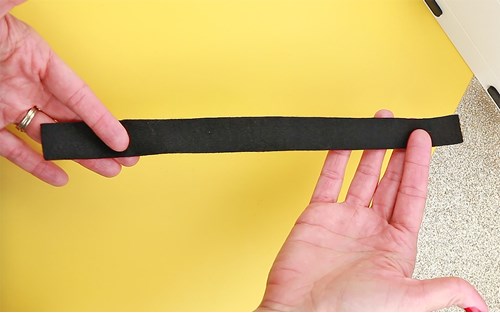 Step 3: Cut a 1 1/4" square out of the gold cardstock.  Then, cut out a small square from the center.  A craft knife works great for this!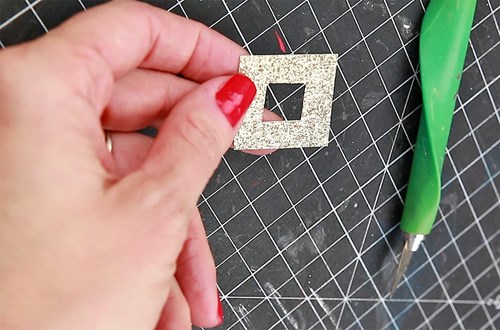 Step 4: Take both the felt strip and gold sqaure and place them in the back of the Creative Station Lite.  Turn the crank until the end of the felt is completely out of the machine. Use the blade to cut the adhesive sheet from the machine.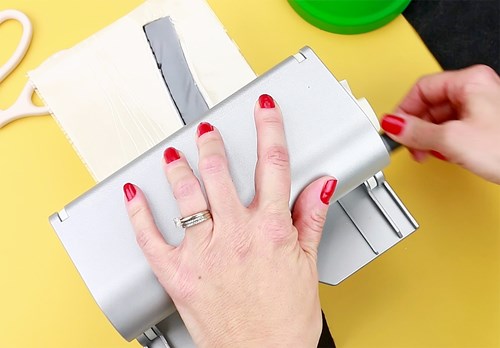 Step 5: Rub your hand over the felt and paper piece to ensure the adhesive is edge to edge.  If it's not, go over the back with a squeegee adding light pressure.  Peel off the top liner and remove your felt.  You'll see the excellent edge to edge adhesive!
Step 6: Place the center of your felt strip on your pot and press down.  Then, start with the left side and wrap it to the back (pully tightly as you go).  Repeat the same thing on the right side.  Since the pot is not a cylinder, the ends will cross in the back.  Just place one side on top of the other side and trim any excess.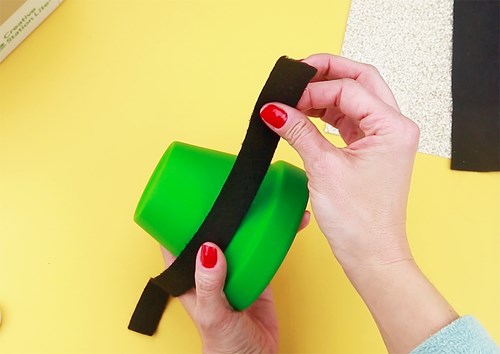 Step 7: Remove the glitter paper, place it in the center of the felt strip, and press down.  This will be nicely adhered to the felt.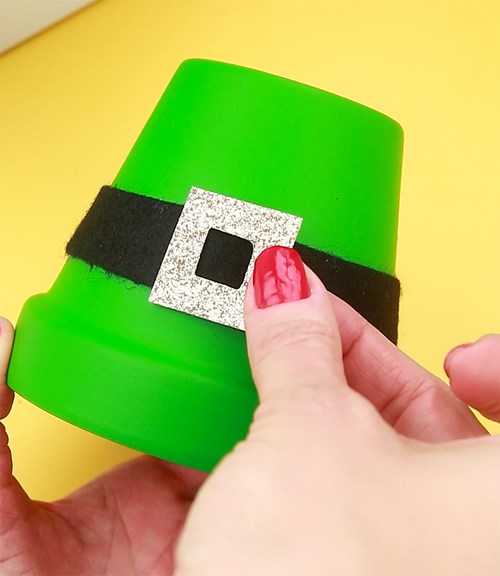 You can get creative with these charming DIY leprechaun hats by making different sizes.  They would make a great gift or could be used as a display piece on a buffet or sweets table.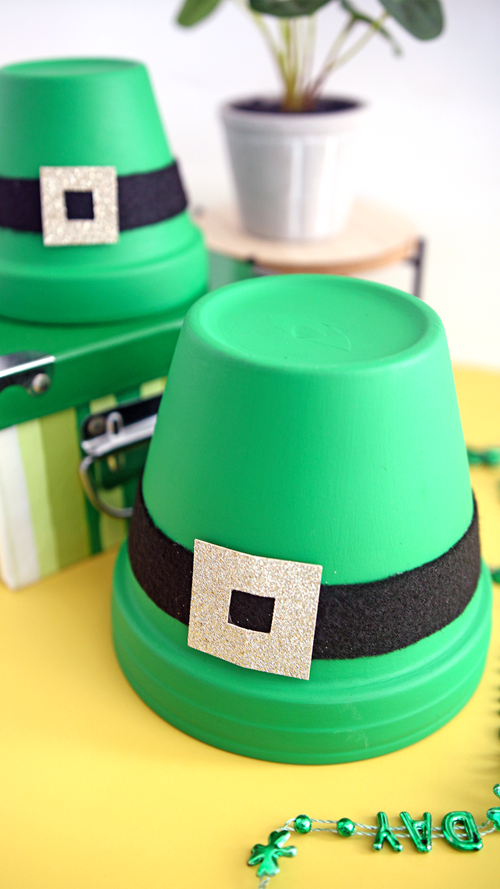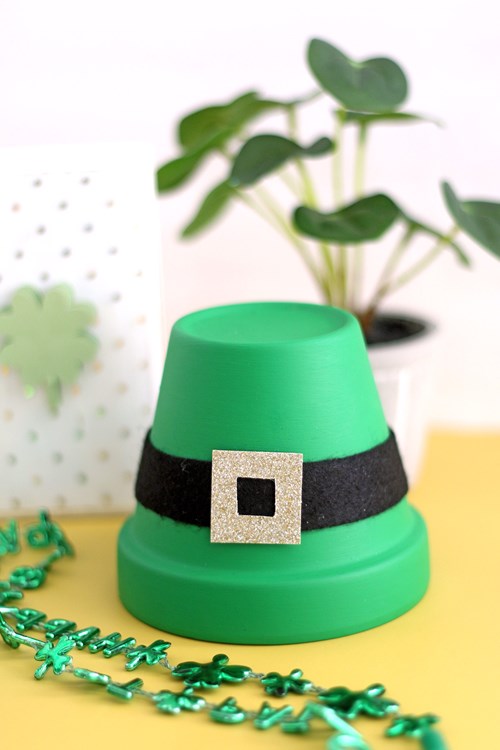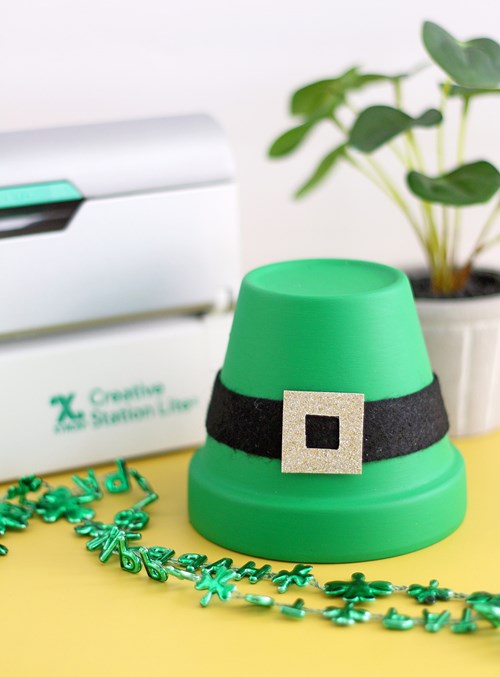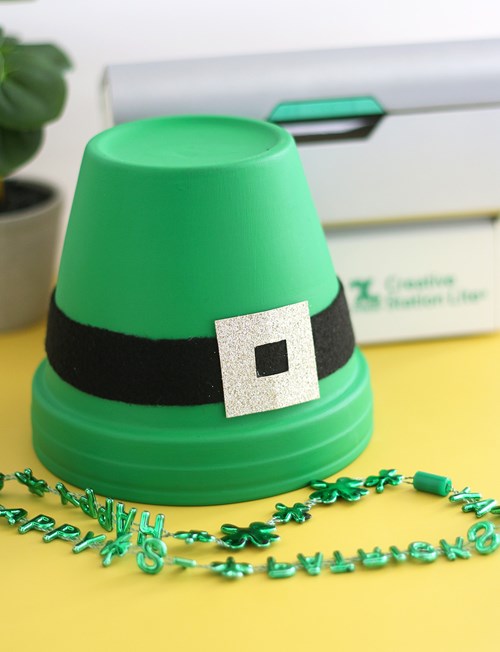 They're also a great project to whip up last minute if you are in need of some fast and festive St. Patrick's Day décor.  Have fun!