Protectz Laminate
Laminate allows you to safely preserve photos, ID badges, recipe cards, maps, important documents and many other items. Trim items to edge or completely cut through laminate with no peeling or separating. Does not require heat. Acid-free and non-toxic.
More Info
Features:
Perfect for: Photos, ID's recipe cards, kid's artwork, scrapbook pages, memorabilia, newspaper clippings, bookmarks, business cards, labels and tags.
| | |
| --- | --- |
| Operational Width: | 12.5 in (31.8 cm) |
| Weight | 2.1 lbs |
| Dimensions (W x H x L) | 15.5in x 7in x 3in (39.4cm x 17.8cm x 7.6cm) |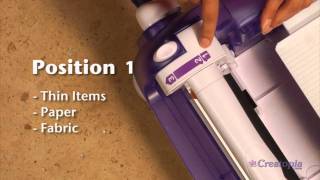 01 Welcome to Creatopia
Learn how to use your Creatopia.