Cutz
Create a variety of specialty edges on paper and other thin items. The starter kit includes a straight blade, guide wheel and guide bar. Cutz blades are available in a variety of straight and decorative styles and include a safety lock for protection. Use multiple cartridges at once for faster trimming.
Cutz Tips, Usage and Care
To cut lighter weight fabrics, first apply fabric adhesive or begin cutting by layering fabric on a cutting mat to increase the thickness.
Turn handle slowly to avoid the fabric from wrapping around the rollers.
Do not wash sizing from fabric for best results.
To prevent blades from dulling, only use dedicated blades for fabric and paper.
Blades are sharp; keep hands and fingers away from blades.
Install guide wheel close to handle side before installing cartridges.
Two hands may be needed to push cartridge lock into place.
Maximum number of Cutz cartridges used at once depends on placement, style and fabric thickness.
Do not leave Cutz cartridges in locked position during storage. Doing so may dull the blades and damage the roller.
To clean, use a soft, dry cloth. Never use abrasives
More Info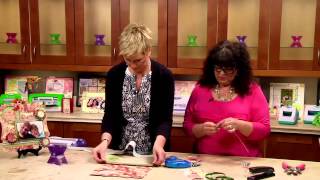 Xyron Creatopia Wall Hanging
Xyron Design Team Member Ann Corbiere-Scott teaches Beth Kingston how to make this darling wall hanging! Ann designed this for a class she is teaching at CKC, what a fun project!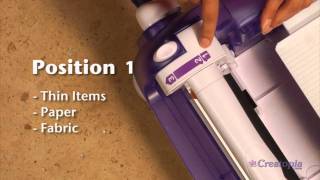 01 Welcome to Creatopia
Learn how to use your Creatopia.