5" CS Permanent Refill
Acid-free refill cartridge is 18' long and fits into a Xyron® 05" Creative Station™. Applies an even, edge to edge layer of permanent adhesive up to 5" wide to almost any item. Great for scrapbooking, rubber stamping and die cuts.
More Info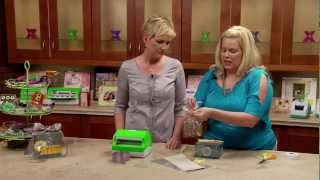 DIY Xyron Night Light
Xyron Edge-to-Edge Adhesive is awesome on transparencies! It dries clear and with total coverage you don't see the edges of your adhesive! Watch Beth Kingston learn to make this AWESOME Night Light from Design Team Member Jessica Barnett! Make it fun for your kids or classy for your guest room! Think of all the possibilities!! If you use Repositionable Adhesive, you can switch the decorations seasonally! So Cute!!